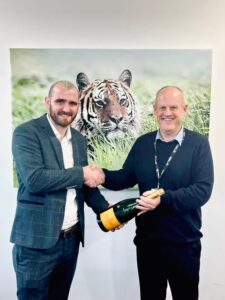 Pictured Left to Right, Dave Fisher (T&L Director), Ed Booth (MD Tiger Trailers)
T&L Leasing are delighted to announce a new milestone for the business.
October 2022 saw the business write its' 10,000th Asset Finance Deal.
The 10,000th deal was an agreement funded for one of the largest trailer manufacturers in the UK, Tiger Trailers Ltd, the award being presented by Dave Fisher (Director of T&L) to Ed Booth (MD of Tiger Trailers) to mark the occasion.
Specialising purely in the Transport and Logistics sector T&L have written in excess of 10,000 deals with advances totalling over £1.6bn comprising of over 35,000 trailers and over 12,000 vehicles.
"It's a great achievement for the business to reach this milestone. It is a testimony to the hard work of the T&L team, as well as the support of our customers and our funding partners. In our 14 year history we have seen various macroeconomic cycles – not least in 2022- and we will continue to ensure that we deliver consistent and often innovative solutions to the UKs logistics operators".   Paul Lewis – Founder and Director T&L Leasing.